Hey guys-- The year's winding down--can you believe it? Where has the time gone?
In fact. . .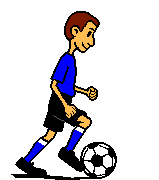 Duration:
Time also refers to how long things last. A breath, a heartbeat, (a cookie,) a Math test, a soccer game, a season... A lifetime can last more than 100 years, and a galaxy can be billions of years old.
Hmmm. . .
That brings me to an interesting observation. Do you ever feel like time seems to drag on and on and on? Like when you're sick, or while you're waiting for Christmas?
(You never feel like that when you're in class, right?)
When you're doing something that you really enjoy, though, time seems to fly by, right?
Why is that?
You guys can't wait to grow up, and your grandparents are wondering where the time has gone.
It's all just a matter of perspective.
Remember--
Time has only one direction--forward. That's it. There's no turning back to change, redo, or undo something that's already happened. No sireee. (You've heard the expression, "What's done is done. . ."
) Bummer.
Mr. Peabody & Sherman with their
wonderful WayBack Machine
You can't un-bake a cake or un-break a dish. When you do or say something that you wish you could take back, you're out of luck there, too. When it comes to time, you can't backtrack.
That is, unless you're Superman.
PART 1: Entertainment
The Greek Amphitheater

(Information

HERE

,

HERE

,

and

HERE.
THE
GREATEST THEATER
video &
theater design
video
vs:
The Roman Colosseum
(Information
HERE
,
HERE

,
and
HERE
)
H
istory of the Roman Colosseum
video
&
The Colosseum's Elevator
video
OMG--Read this:
You Wouldn't Want to be a Roman Gladiator!
Complete
Roman Bath Interactive
and accompanying
worksheet.
More information
HERE
and
HERE
.
Also,
check out
Roman Bathing
-- and
Roman
Bath Culture
video
Monday:
Correct and Repair Chapter 7 tests
Begin Chapter 8 with "Show What You Know," pages 291-292
Tuesday:
RETEST
Wednesday:
Correct tests. Begin Chapter 8. Complete 8.1 (see video)
Thursday:
End-of-Year Assessment
Friday:
Finish testing/grade