Well, Thanksgiving is over, and all that's left is two weeks' worth of leftovers and the wishbone. If your family is anything like mine, that little bone is washed and drying by the stove, waiting for two of us to grab hold, "make a wish," and tug.
The wishbone is actually called the
furcula.
This flexible forked bone is formed by the fusion of two clavicles (aka collarbones) at a bird's sternum and is an important part of its flight mechanics. It's elastic
(If you've ever tried to break a wishbone
before
it dries, you'll see what I mean.)
and acts like a spring, storing and releasing energy during flight.
Are wishbones unique to birds? Well, no.
Paleontologists found that this bone dates back more than 150 million years to two-legged meat eaters like the Tyrannosaurus and Velociraptor. These guys didn't fly, but the furcula probably acted as a structural support that helped them to hold onto their prey.
Did you ever wonder where the traditional breaking of the wishbone came from? Me, too! F.Y.I. the Pilgrims didn't make this stuff up. It's a tradition that came from Europe over 2,400 years ago--from the English who got it from the Romans (both of whom called the wishbone "merrithought") who got it from a mysterious pre-Roman civilization called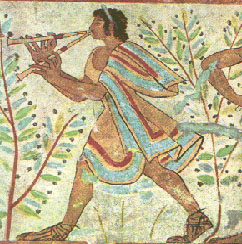 The Etruscans were the first great power of the western Mediterranean. They (along with the Greeks) developed the first true cities of Europe.
So why are the Etruscans mysterious? It's because, even though they had a rich and artistic culture, developed an alphabet which they introduced to the Romans, and spread literacy across Italy, none of their
own
stuff, their histories or literature, has survived.
Nada. Niente.
That's what you call
irony
.
Read more about this fascinating culture HERE.
So what do Etruscans have to do with wishbones. you ask? Apparently, they were really into their poultry! They believed that chickens were oracles and could predict the future. Yup.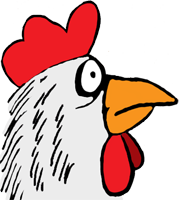 "They exploited the chickens' supposed gifts by turning them into walking ouija boards with a bizarre ritual known as
alectryomancy
or "rooster divination." They would draw a circle on the ground and divide it into wedges representing the letters of the Etruscan alphabet.
Bits of food were scattered on each wedge and a chicken was placed in the center of the circle. As the bird snacked, scribes would note the sequence of letters that it pecked at, and the local priests would use the resulting messages to divine (foretell) the future and answer the city's most pressing questions." 1.
Apparently they believed that the furcula was holy, and after a chicken was, you know, they would remove it and lay it out in the sun to preserve it. People would pick it up, stroke it, and make wishes on it, believing that it gave them access to the oracle's power. That's how the term "wishbone" came to be.
The Etruscans passed the tradition on to the Romans, who'd fight over the unbroken bone (which didn't stay unbroken for long) for a chance at good luck.
That's where the phrase, "I need a lucky break," or
"i postulo a felix confractus"
(That's Latin.) came from.
Well, the boisterous Romans passed the tradition on to the English, who carried it to America with the Pilgrims. . .
America, as luck would have it, was chickenless, but oh, it was full of turkeys (much like it is today). Being the resourceful folks that they were, the Pilgrims simply switched birds. (After all, if anyone needed a "lucky break," it was them!)
And now you know.
The ancient Egyptians did not call their home "Egypt" (that name is based on the Greek pronunciation of the name of Ptah's temple in Memphis - "Hwt-ka-Ptah"), instead they referred to it as Kemet (or Kem - the black land) or Ta Mery (the beautiful land). ~ Jeremy Hill (Ancient Egypt Online).
Thursday:
Another day of exploration, discussion, learning, learning, learning. . .
Test coming soon: Know
these
terms! Practice, practice, practice!
TO DO
: Complete Interactive Notebook Review Activity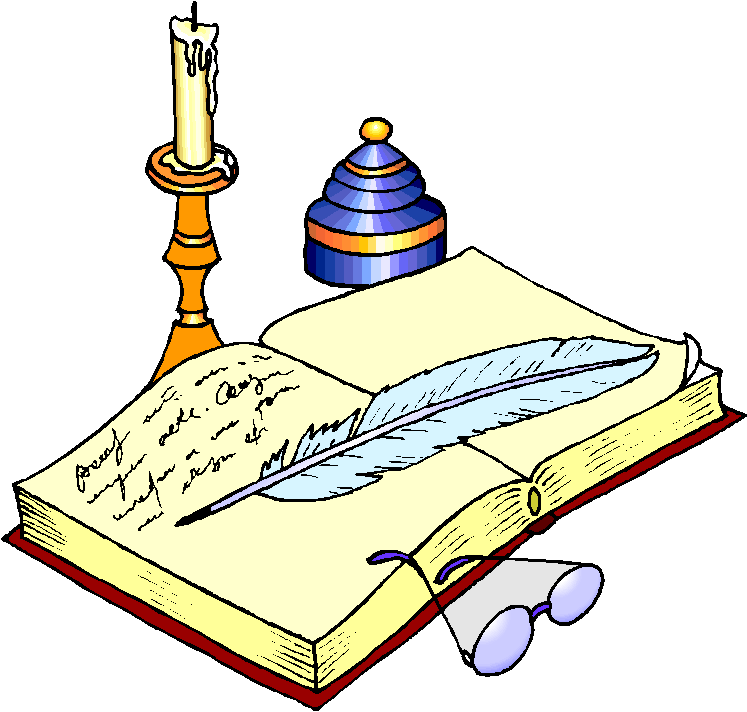 Narrative Writing continues to be a major focus for us as we sharpen our use of descriptive language and dialogue. Did you complete your Personal Narrative and "Giving Thanks" activities? Hope so.
This week we will commence the holiday season with poetry (Haiku directions can be found
HERE
) and projects that will transform our room, so sharpen those listening skills; you're going to need them!
The holidays provide lots of opportunities for writing! Let's have some fun!
Monday:
Complete "5 Rules" and "5 Treasures" for Bud, Not Buddy final project. (See last week's directions.) Turn in.
Tuesday-Friday:
You've finished your book for November and I'm so anxious to read about it. I'll provide a hard copy of your Book Report Template, but if you lose it, you can also find a copy
HERE

.
Final draft will be typed.
Use the Character Traits chart, found
HERE
to provide greater insight and detail about the characters in your book. Use specific words to paint a picture of each of them. (Don't rush through character description. Ever.)
We'll begin our next book on Monday!
Monday:
3.5 Absolute Value. Share & Show, pgs. 167-168. Homework, pgs. 169-170.
Tuesday:
3.6 Compare Absolute Values. Share & Show, pgs. 173-174. Homework, pgs. 175-176.
Wednesday:
CCSS Absolute Value Worksheets
Thursday:
3.7 Rational Numbers and the Coordinate Plane. Share & Show pgs. 179-180. Homework, pgs. 181-182.
Friday:
3.8 Ordered Pair Relationships. Share & show, pgs. 185-186. Homework, pgs. 187-188.
Great lesson!
Lesson 3.8 Ordered Pair Relationships