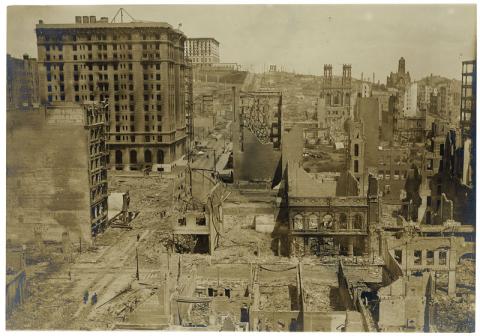 Photograph depicting the St. Francis Hotel following the 1906 earthquake in San Francisco. Online courtesy the U.S. Archives and Records Administration.
No one
can comprehend the calamity to San Francisco
in its entirety.
ASSIGNMENTS FOR SEPTEMBER 8--12
SCIENCE
Tuesday:
We introduced our review of Plate Tectonics with a visual journey to the 1906
SAN FRANCISCO EARTHQUAKE.
A preview of
PLATE TECTONICS--scroll to the bottom to answer 2 questions
.
Thursday:
Then:
Close read of "

Alfred Wegener and Continental Drift"

Group Activity: Complete "Writing Frame:Continental Movement
Monday:
Seven Wonders of the Ancient World Power Vocabulary (Introduced last Friday: Played Vocabulary Concentration.)
Assignment: (1) Power Vocabulary Crossword, (2) Matching, and (3) Word Search/Missing Fact sheets packet (with accompanying vocabulary sheet to use as needed for reference)
Wednesday:
Quiz on Power Vocabulary

Hand out KIDS DISCOVER "Seven Wonders of the World."

Assignment: Complete "Get Set to Read" then begin reading/discussion.
As time permits (to be continued on Monday):
"It's In the Reading" -- After reading KIDS DISCOVER, choose the best answer for each question and fill in the appropriate circle.

"Everything Visual" map study. Study the map to answer questions.
LANGUAGE ARTS
Monday: Begin ELA Interactive Notebook with "Parts of Speech" activity
Tuesday: Complete activity. Begin typing "How I Learn"
Wednesday: Guidance/Spelling
Thursday: Finish typing "How I Learn"
Friday: Work on Writers' Notebooks activities for September.

SPELLING/WORD STUDY
Monday: pg. 10 Introduce words for the week.
Tuesday: pg. 11
Wednesday: pg. 13 & 14
Thursday: pg. 15 & 16
Friday: Test
MATH
Monday: Begin Go Math Fall Assessment
Tuesday: Complete Fall Assessment
Wednesday: Begin review of Division of Larger Numbers (n/a)
Thursday: Pages 5 & 6 Group and Individual Practice
Friday: Mad Minute. Finish small group work/check out online activities.
San Francisco Earthquake story:
Bos, Carole
"San Francisco Earthquake of 1906" AwesomeStories.com. September 9, 2014
San-Francisco-Earthquake-of-1906>.
Plate Tectonic image:
http://www.sanandreasfault.org/Plates.jpg
YouTube video "Plate Tectonics--A Documentary" from
https://www.youtube.com/watch?v=1-HwPR_4mP4
Math Facts image:
http://1.bp.blogspot.com/-2dtx2l3wI48/UipAiCD_qBI/AAAAAAAADuY/IS6IkUm3w2s/s1600/multiplicationchart-20110723T004621-3exyf5n.png