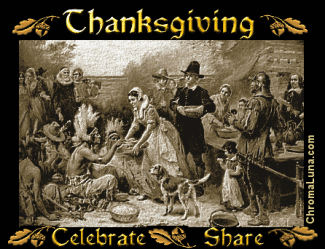 Our rural ancestors, with little blest,
Patient of labour when the end was rest,
Indulged the day that housed their annual grain,
With feasts, and off'rings, and a thankful strain.
~Alexander Pope
Dear Parents--
I really try to take time during the Thanksgiving season to recognize and reflect upon all that I am most grateful for.
I am, of course, exceedingly grateful for my loving family and for the good fortune of being married to my best friend. I am also grateful for the opportunity of working in this wonderfully close-knit community for nearly ten years. No matter our economic situations, family structures, or unique gifts and challenges, we always acknowledge and accept each others' differences and embrace all that we have in common. That is the true beauty of us.
I am particularly thankful to all of you for the important role you play in your child's educational experience. It is a fact that you set the tone for their attitude toward and commitment to learning. Your example is their model -- your interest makes them interested. Your holding them accountable for their behaviors and their homework helps them to become socially and academically responsible. Your tutelage helps them to develop stamina, perseverance, and pride. No one knows better than you how complex and difficult -- and rewarding -- teaching can be.
I'm glad we're in this together.
ASSIGNMENTS FOR
~ NOVEMBER 24 - 25 ~
Grades closed on Friday, November 21st. For these two days, however, students who are still finishing up back work will have a chance to complete it, correct it, and turn it in.
In Math:

We'll complete two quick assessments to assess where students are in their learning.

In Language Arts: We'll make final corrections to TACKK Websites.
In Science:

We'll complete and correct Extreme Weather WebQuests

In Social Studies:

We'll conclude our unit on

Ancient Mesopotamia.

Students were given all the information they needed to study. (See below for [third] reminder.)
FYI: (Remember these? TEST IS APPROACHING!)
In Reading: This month's independent book projects will be due when we return from Thanksgiving break. Be sure reading is done! (two books or 300 pages). All reading should be entered daily into your Reading Logs (located in your Drives) and recorded in your "Books I Have Read in Sixth Grade" pages. Don't forget to update!
In Writing: All work for this month's Writers' Notebooks should be completed and notebooks should be turned in for grading.
. . . and now, another Thanksgiving tradition . . .
A CHARLIE BROWN THANKSGIVING
I WISH YOU A SAFE AND JOYFUL FAMILY-FILLED HOLIDAY!
Thanksgiving image: http://www.recoverygraphics.com/albums/thanksgiving/0074.gifFireplace gif: Fireplace: https://ocean1025.files.wordpress.com/2014/10/dvd_fireplace_3.gif
Turkey: http://www.clipartbest.com/cliparts/ncX/kEB/ncXkEBRcB.gif