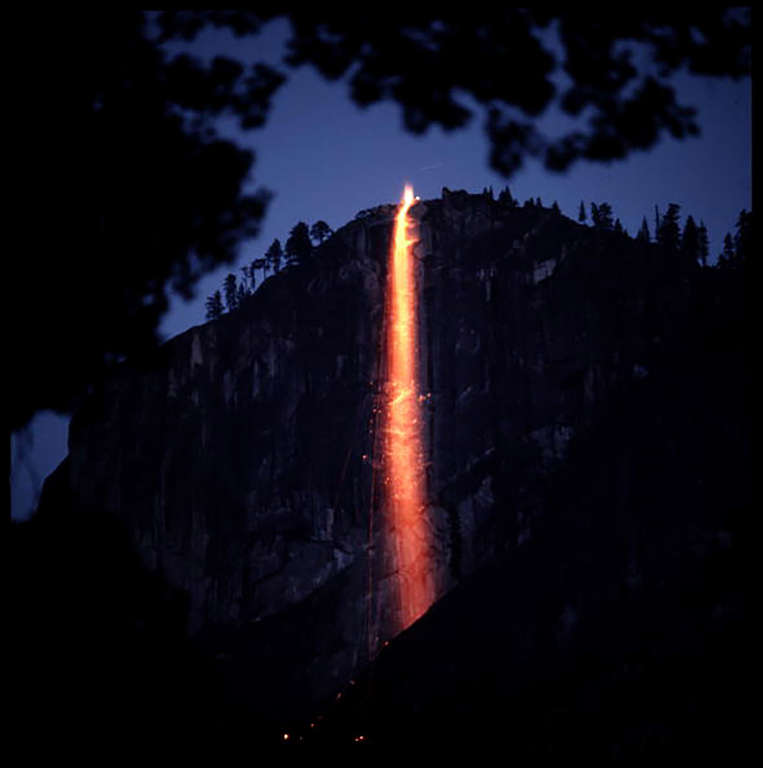 A photo posted by @desert_daisy07 on Feb 19, 2016 at 11:07pm PST
It only occurs for about ten days in February. The angle of the setting sun sets Horsetail Fall in Yosemite National Park ablaze with reds and oranges creating the illusion of a firefall -- or perhaps a lava flow -- cascading down El Capitan's rock face. Locals say that this is the first time in four years that the conditions have been optimal to capture this jaw-dropping albeit elusive phenomenon.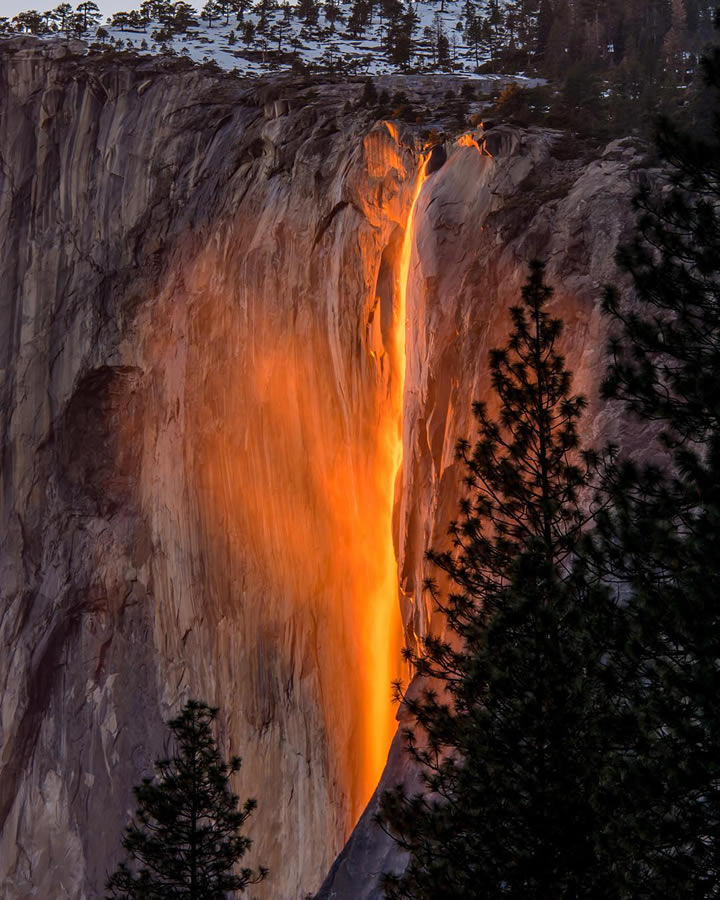 (Photo submitted to KGO-TV by @jeffreyplui/Instagram) Feb, 2016
Want to see for yourself? You'd better hurry up! The last day to view this incandescent wonder in 2016 is Monday, February 22.
There are so many beautiful and awe-inspiring things in life that we'll probably never have the time and/or the opportunity to experience them all. After I learned about the spectacular display at Horsetail Fall, I began looking for others, and, well, there went my day. Here are just a few (out of the gazillions I looked at) that relate to what we've been studying:
Snow donut. This phenomenon needs perfect weather conditions to form. Blowing snow catches onto more snow and begins to roll down a hill, creating a donut shape.
Lenticular clouds. Lens-shaped or multi-layered, these clouds form at high altitudes,
These are a favorite of UFO aficionados and are often the explanation for people's UFO sightings.
Morning Glory Wave Clouds. One of the world's rarest meteorological phenomenon, these clouds stretch from horizon to horizon and are the result of "a shockwave in the atmosphere of immense proportion."
Want to know more? Go
HERE
.
Waterspouts.

Not a major threat to anyone unless, of course, you're out on the water.Then it's another story! Waterspouts can achieve speeds of nearly 190 mph.




Could waterspouts be the reason why ships go down in the Bermuda Triangle?

Seem backward to you? Here's what you accomplished with your PowerPoint:
You created an organizational tool--your graphic organizer.
You broke your project down into workable parts and focused on one thing at a time.
You used multiple sources and documented them as you went along.
You increased understanding by including appropriate visuals
You learned to research--to look for more--to challenge sources and analyze discrepancies.
You created a visually appealing product as a result of all your hard work.
You deserve a pat on the back!
Now you'll learn the structure of a traditional research paper--and all the "legwork" is already done!
We'll finish up this week.
Distance, Rate & Time
CONVERSIONS MADE EASY
THE MASS VS WEIGHT SONG
Complete Week 7
Test Friday
Cloud information from HERE and HERE

Skypunch clouds

Garfield & remote gif Garfield writing gif Garfield with books gif Garfield in the water gif Garfield wild and crazy gif Garfield smiling heart border it's all good gif minions clapping gif feature presentation gif Egyptian animated scene Egypt divider fish jumping gif dripping water gif pharaoh gif PHD comic strip King Henry gif metric conversion chart pat on the back fancy legwork
I can do it spelling books border

red hearts border

black scroll divider

pencil border

blue divider drum roll procrastinator https://media.giphy.com/media/12IK01JJiBXtvi/giphy.gif water bottle gif https://hanmer4.wikispaces.com/file/view/Mathematics.gif/156390889/Mathematics.gifMathematics